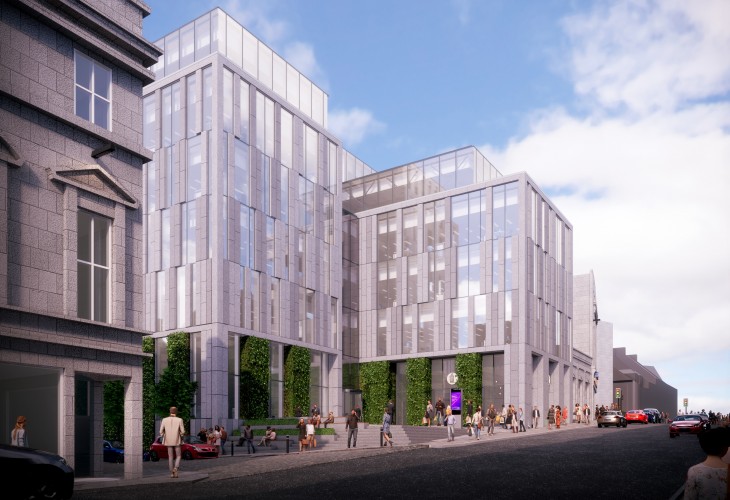 Aberdeen Market Redevelopment granted Planning Permission
8 May 2020
During the night of 29/30th April 1882 the original New Market building in Aberdeen was totally destroyed by fire – now some 138 years later, on 30th April 2020 Aberdeen City Council have approved a planning application to redevelop this important city centre site. With the current precarious situation with high street retail, the redevelopment of this prominent site sees smaller, more diverse retail and leisure opportunities at the lower levels providing active street frontages with modern office space above.
PATRIZIA, the developer, is a leading global real-estate investment and development group which prides itself on creating sustainable communities. They are committed to new developments which are relevant, sustainable and balanced with financial viability to ensure the building's materials and design are of the highest quality, creating a sense of place within great urban design which is appropriate to the surroundings.
The overall aspiration is to add to the regeneration of the east end of Union Street with a point of orientation and architectural statement of confidence and to dramatically improve the overall urban realm, creating a vibrant destination within the city centre.
With the confined city centre location the development sought to provide a balance of reducing the building footprint at street level to provide a new pedestrian area on Market Street and an enlarged civic space to The Green, with the office accommodation positioned above to take advantage of the 360 degree views across the city skyline.
Shaun Hose of Patrizia said the decision is "very welcome after four years of working on proposals for this site".
"We will continue to work closely with Aberdeen City Council and other stakeholders to deliver on our proposals which will inject new vibrancy into this part of the city centre,"
To minimise its visual mass, the building was designed as a series of individual 'towers' each set at a different height to relate to the city skyscape. The elevational treatment of the towers has resulted in these being more solid at their base, becoming more transparent as these rise towards the sky, with the top most stories being formed as glass boxes, effectively allowing them to 'fade' into the sky.
The series of tower forms allows the south west tower to be set as the highest point of the building, allowing the new addition to the Aberdeen skyline to be a focal point when leaving Union Square and the train station. The height of the 'tower' has allowed its topmost levels to be formed as a glass box within a feature crown. This exciting lantern feature could house a board room to a corporate headquarters, or an exclusive dining experience depending on the final occupiers to the building.