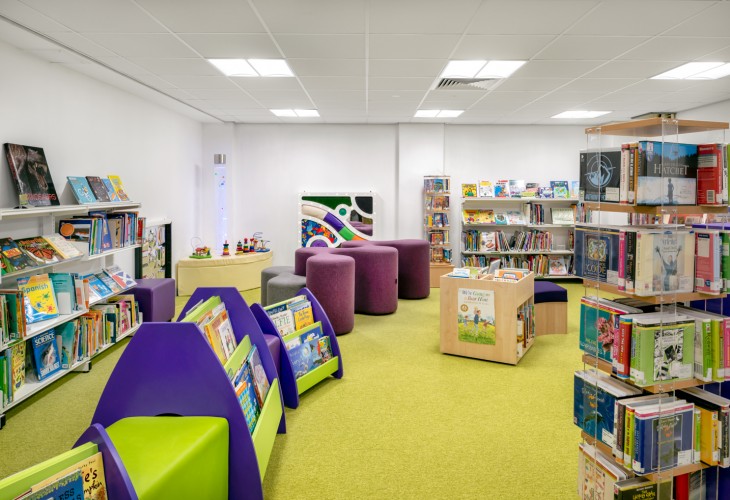 Architecture and design firm Halliday Fraser Munro shortlisted for award recognising the nation's inspired learning spaces
19 Nov 2019
Architectural design and planning firm Halliday Fraser Munro has been recognised on the national stage for its work in helping Aberdeenshire schools enhance the learning experience of pupils. The firm has been shortlisted in the Inspiring Learning Spaces category of the Educational Buildings Scotland Awards, which celebrate the link between the built environment and education.
Halliday Fraser Munro is in the running for projects it carried out on behalf of Aberdeenshire Council to refurbish areas of Aboyne and Mintlaw academies, creating bright and open spaces that allow a holistic approach to teaching and learning.
The projects delivered by the firm saw the introduction of learning plazas – a multi-functional space that can be used in a variety of ways by pupils, teachers and the wider community.
Halliday Fraser Munro managing director David Halliday said: "It is a real honour to be shortlisted for this award by our industry peers and education professionals. Over many years we have gained significant experience in delivering high quality educational builds, and this nomination further underlines our success in this field.
"Schools are no longer just about classrooms, corridors and canteens: increasingly they must provide multi-functional spaces for use by pupils and the communities they serve, while also offering inspiring environments that stimulate learning.
"The learning plazas at Aboyne and Mintlaw have been a fantastic addition to the schools. They allow for a more flexible use of space, improved collaboration between pupils of all ages, shared working and learning between teaching staff, and interactive ICT."
Halliday Fraser Munro has a long track record in delivering educational build projects across Scotland and put a strong emphasis on stakeholder engagement to develop their proposals. Recent successful projects include Alford Community Campus in Aberdeenshire, Moray Sports Centre in Elgin, an integrated campus for St Edwards' and Tollbrae primary schools in North Lanarkshire, and the soon-to-be-opened Inverurie Community Campus in Aberdeenshire.
In addition to being shortlisted for an award, the firm will be sponsoring the Public/Student Experience category. The Education Buildings Scotland Awards are part of a two-day conference taking place in Edinburgh on November 27 and 28. The conference brings together representatives from the built environment and policy makers from the education sector from early years to universities.
Mr Halliday added: "The conference presents an exceptional opportunity for us to understand the latest thinking about how Scotland's learning estate can be used to inspire and challenge young minds and how we as architects can feed into that process."