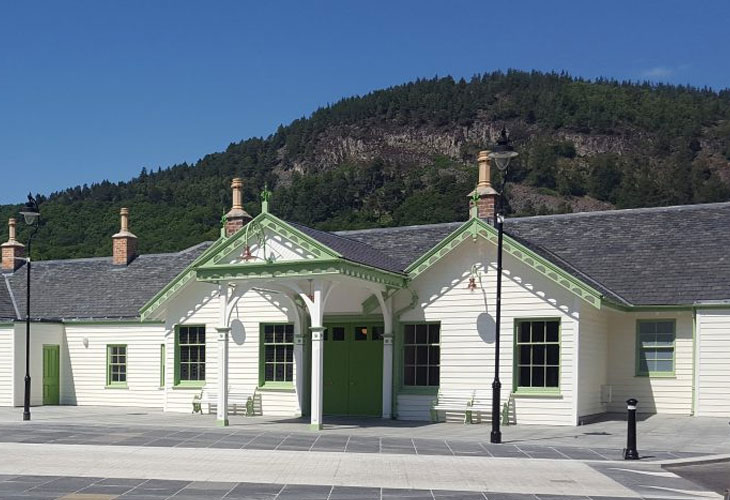 Ballater Station Completion
25 Jul 2018
The redevelopment of the historic Old Royal Station in Ballater reaches an exciting stage in the project with the main contract works now complete.
In 2015, a devastating fire destroyed the station which has now been reconstructed with a new extension which will house a Royal carriage. The station will be opened in sections starting at the beginning of August 2018 – and will be fully operational by September 2018. Upon fully opening, the station will house a Visit Scotland Information Centre, shop, library, Formal Tea room and a restaurant operated by the Duke of Rothesay's charitable trust.
The B – Listed building was extensively refurbished in 2000, this provided an excellent footprint for the reconstruction which allowed our team to focus on the original forms and elements of the building during the design process. The original Royal Waiting Room could be fully reconstructed by specialist contractors. This included the original wooden panels, and although these had been extensively smoke damaged, they were able to be salvaged, cleaned and reused, giving the room even more character than originally anticipated.
The station is an important part of Ballater for both the client and local residents and keeping the railway themed features was incredibly important. There are many eye catching details around the station including platform fixed seating in the form of reconstructed dining booths which are in the restaurant.
This was an extremely challenging Project due to the inclusion of the surviving historic fabric, accommodating the wishes of the proposed tenants, and also ensuring the needs of the local community were included. The outcome has been successful with feedback from the local residents being extremely positive.