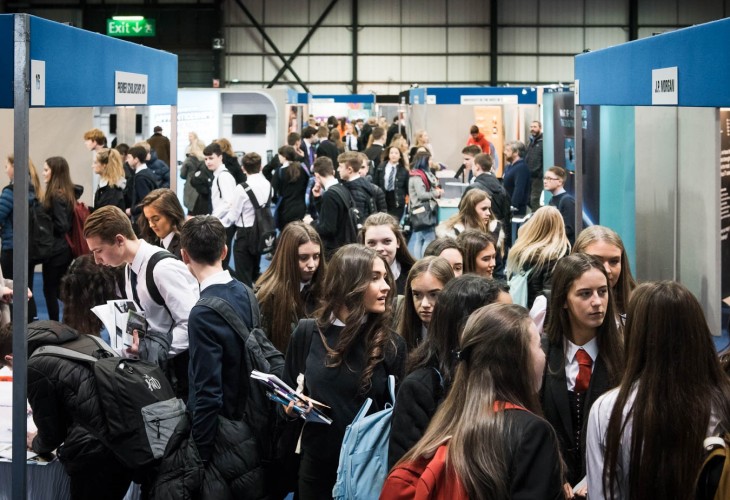 Building futures – Halliday Fraser Munro supports drive to encourage industry's new talent
5 Nov 2019
Award-winning architectural design and planning firm is developing the industry's next generation of talent by supporting a major event aimed at encouraging young people to consider careers in construction and architecture.
Halliday Fraser Munro is exhibiting at Skills Scotland with the Construction Industry Training Board and plans to give school and university students hands-on experience of delivering client projects.
During this week's event in Glasgow, the firm will give students the opportunity to design and plan a mixed-use development – combining business, residential and leisure - using models to show how their finished project will look.
Halliday Fraser Munro managing director David Halliday said: "It's designed to be a fun yet realistic exercise. We'll give them a brief of client aspirations that they will need to stick to – a scenario which we as architects deal with every day – but the key is to get them using their imagination.
"As an architectural design and planning firm which recruits the brightest talent, we want to do everything we can to encourage young people to consider a career in this industry. By showcasing our own projects and giving them hands-on experience, we hope that students will see that the industry offers incredible scope for challenging, exciting and rewarding careers."
In addition to the modelling exercise, young people attending the Skills Scotland conference will be able to explore Halliday Fraser Munro projects on their phones through virtual reality.
Skills Scotland is one of the country's largest careers events, with thousands of school pupils and college and university students expected to attend. It is the latest drive by Halliday Fraser Munro to raise the profile of careers in the industry: earlier this year the firm became the main sponsor of the Build Your Future challenge – a competition led by Grampian Construction Training and the CITB.
The firm has an extensive track record in delivering educational builds which have become exemplar projects for Scotland. Alford Community Campus in Aberdeenshire; a shared campus for St Edwards' and Tollbrae primary schools in North Lanarkshire; and the soon-to-be opened Inverurie Community Campus are among those to have been completed recently.
In order to inform future approaches to educational builds, staff from the firm will survey pupils at the Skills Scotland event on what they believe makes a good learning environment. That same question will be put to educators and industry professionals later in the month when Halliday Fraser Munro exhibits at the Education Buildings Scotland conference – an event that will bring together built environment and policy professions from the education sector.
Mr Halliday added: "The most critical element of an educational project is stakeholder engagement. It is our job as architects to take the aspirations of everyone – the pupils, parents, staff, local authority and the wider community – and translate those into meaningful and practicable solutions that will serve current and future generations of users.
"It will be very interesting to get feedback on what young people and adults perceive to be critical components of the learning environment, and to see if these differ between the age groups. We have a great deal of experience in developing and delivering education projects, so we are delighted to be participating in both the Skills Development and Education Buildings Scotland events."