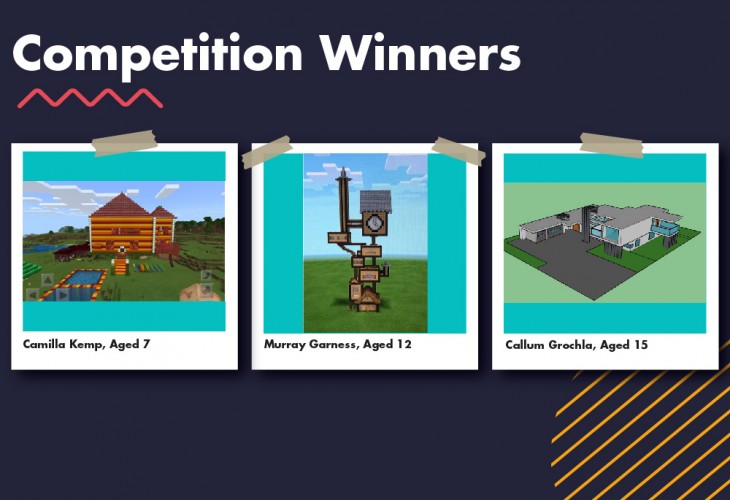 Competition Winning Pupils Inspire with their Architectural Flair
29 Jun 2020
When we launched our 'Design a House' competition during lockdown as part of our online work experience portal, little did we expect such a high volume of entries - nor such a diverse collection of hugely inspiring designs.
More than 400 school pupils from Cambridge to Edinburgh and Darlington to Glasgow took part in designing a house, using a media of their choice – and what a choice there was. We had entries created from Lego, twigs, Minecraft and Sketch Up to name but a few.
And today we opened the gold envelopes to reveal the winners:
Fifteen year old Callum Grochla from Portlethen Academy, Aberdeenshire took first prize in the 13 – 17 year old category with his sleek, contemporary design for a modern house.
Twelve years old Murray Garness of Monikie Primary School in Dundee takes first prize in the 8-12 category, with his whimsical deign for 'an ever expanding house'.
Seven year old Camilla Kemp from Kingswells Primary in Aberdeen scoops the prize in the up to seven year old category for her Minecraft designed family home.
The winners will receive a gift voucher and a Halliday Fraser Munro architect has created their design as a 3D model on screen for them. The winning designs can all be seen on our Instagram @hallidayfrasermunro
Our judges were bowled over by the diversity and maturity of the designs submitted and selecting winners was a significant challenge.
Managing Director David Halliday explains, "The quality of entries was beyond anything we could have imagined and ranged from tree houses to log cabins and Lego houses to cantilevered structures. We loved the creativity of the younger age group entries and were inspired by skills, spatial awareness and understanding of place of the secondary school pupils.
"It was a huge disappointment to us that we were unable to offer our usual programme of work experience for pupils considering a career in architecture and planning. The work experience portal was our way of making sure we could still offer support and encouragement to these young adults. It also gave us an opportunity to give younger pupils the chance to try out their design skills."
Callum Grochla, winner of the 13 to 17 category said of his winning design, "I entered this competition as I was due to complete my work experience at this company and also because I really want to become an architect and have done for several years. First, I sketched it onto paper, then I made a basic floor plan. Next I made the floor plan on Minecraft , then created the house on Sketch Up. I learned a lot more about the way in which you design a house due to the competition."
Twelve year old winner Murray Garness welcomed the opportunity to design his 'ever expanding' house saying, "This means a lot because I, and many other people, missed out half of our final year of primary, and doing fun things like this is what I will remember of my years at Primary School."
Seven year old winner Camilla Kemp cited George Clark and his television programme 'Old House, New Home' as the inspiration for her design.
There are two runners up in each category who also win prizes:
13 – 17 years
Danika Halai (17) Harrow College London, who designed a St James' Park house with an underwater section and views of Buckingham Palace and the London Eye.
Sofia Coromoto Mejias Fernandez (15) Aberdeen Grammar, whose design was for a 'tree house' contemporary style home with an internal garden of trees.
8 – 12 years
Layla Parsons (8) Edzell Primary, designed a log cabin and then created a 3D model from bamboo, logs and leaves.
Teigan Farley (11) from Monikie Primary School Dundee, created a 'surface house' sitting on water.
Up to seven years
Adam Barnett (7) Strathmartine Primary Dundee, clad his structure in rainbow colours to support the NHS.
Katie Allan (7) Newmachar Primary who designed a Lego house complete with balcony and slide from the first floor to the garden.
"Although we've not been able to deliver our work experience this year," says David Halliday. "I feel we've been able to give a meaningful introduction to the world of architecture and design to more pupils than ever this year. It's a programme we aim to continue to offer in coming years even when we are able to reintroduce office-based work experience."
Our work experience portal remains open for all ages of pupils. It can be found at workexperience.hfm.co.uk.