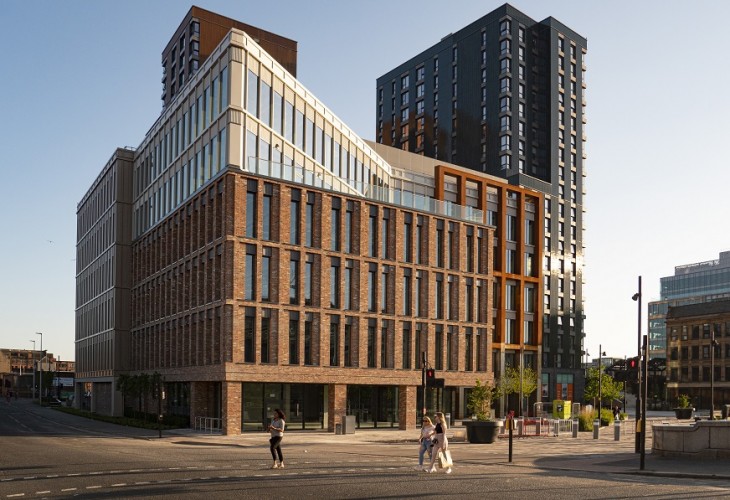 Creating a better environment for the Student Loans Company
28 Jun 2023
As the architects responsible for Buchanan Wharf - Scotland's largest ever redevelopment project- it is particularly satisfying to see the final piece coming to fruition. "Building 6" will shortly be handed over to its tenants, when it will become known as the Student Loan Company (SLC) building.
We are especially proud of how we have worked with the developer, constructors and tenants to create a building that achieves The Student Loan Company's ambition to get as close to carbon zero as is realistically possible. By applying best practice, as detailed by the London Energy Transformation Initiative (LETI) and WRAP's guidance on Cutting Embodied Carbon in Construction Projects, we have been able to drive down embodied carbon, reduce waste and optimise the design to achieve the lowest possible operational carbon levels.
The new building was carefully designed in line with the UK Green Building Council 2025 to 2030 interim energy performance target for offices. Optimising U values and daylighting as well as working with our engineers to find the mechanical and electrical features best suited to improve sustainability. Our highly advanced capabilities in building information modelling (BIM) also enabled us to engage stakeholder throughout the project and work closely with the contractor and assessor to minimise wastage and maximise material efficiency.
Reducing carbon impact but raising visual impact
Two key aspects of the LETI guidance are to build collaboratively and to build less. Early discussions and consultation with the SLC revealed that they wanted sole occupancy of the building but would need just 75,000 sq ft, rather than the 170,000 sq ft originally planned for building 6. In response, we revised our design for the building. While the smaller scale significantly reduced its carbon impacts, the building still had to act as a significant landmark, serving as the terminus for the Clyde-facing elevation of the whole Buchanan Wharf Development.
Introducing a large, raised roof terrace reduced the overall amount of floorspace while creating a generous open air social space. Alongside it, a dramatic projecting office space with curtain walls was created providing excellent natural light and stunning views in both directions along the Clyde. Continuity with the rest of the development's northern elevation, was achieved using the same colour palette featuring Corten steel and brickwork, echoing the industrial and maritime heritage of the site.
Pushing back on energy use and securing future use.
One feature of the new design, that differed from others in the complex, was our decision to push the service tower to the rear of the building. A deliberate choice was made on the southern elevation to reduce glazing. This 'solid' appearance has two positive impacts. Solid walls preform better, more insulation means less heat loss, as well as preventing solar gain. This was a deliberate move away from the 'glass box' to provide a more sustainable envelope. As a result, the office spaces enjoy a more open floor plate with views oriented towards the river with its natural light and freshly landscaped frontage.
This design also helps future-proof the building (a key consideration in LETI's sustainability guidance) by allowing the floor spaces to be easily divided to accommodate the needs of new tenants at a later date.
Of course, every organisations' carbon impacts go far beyond their buildings. Active travel is a key factor in achieving a low carbon future and a large bike store has been integrated into the ground floorspace along with extensive showering facilities to enable people to commute more healthily and sustainably. Car spaces have been kept to a minimum with spaces for EV charging and disabled users.
Lowering carbon without compromise
In the past, people have expressed concern that reducing carbon might mean compromising design standards but Building 6 has proved that the kind of changes needed to achieve our climate goals, can inspire even greater creativity. To discuss how we can help you build working environments that work better for you and the planet, get in touch.
Image by GRAHAM Group