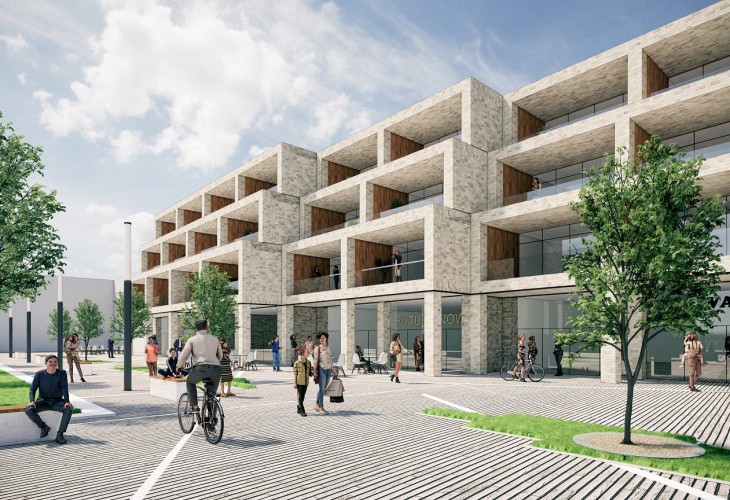 Creating an ambitious new vision for Glenrothes.
1 Apr 2021
We were hugely proud to see our Masterplan for Glenrothes town centre approved by Fife Council on 24th March 2021. Halliday Fraser Munro's team of Masterplanners, Planning Consultants and Landscape Architects worked in partnership with Aecom to develop a sustainable infrastructure proposal, and with property consultants, Rettie & Co to ensure the Masterplan's economic viability.
As a "New Town", planned around the use of the car, Glenrothes faces specific challenges as we enter a more sustainable, less private car focused age. Like most other towns, it has suffered from a drop in retail activity which has been further accelerated by Covid-19. Our Masterplan involves significant regeneration of the town centre, replacing out-dated office buildings with new workplaces designed to complement modern working patterns and lifestyles and provide low energy buildings that will foster civic pride.
The Masterplan looks to introduce more housing to the town centre and reconfigure the town's retail infrastructure to reflect changing trends and consumer behaviours. While Glenrothes does not have a traditional high street, the busy Kingdom Shopping Centre will remain at the heart of the community, with the potential to be adapted to form a dynamic destination. This will hopefully attract new retail, entertainment and hospitality businesses and encourage start-ups – inspiring more social activity and creating a vibrant evening economy at the heart of the town, particularly out with normal shopping hours.
More joined-up, greener and active travel links around the town will enable residents to move around in a more sustainable and healthy way - reducing the current demand for car parks. These can then be repurposed to create more green spaces to showcase the town's extensive public art collection and for innovative uses such as farmers' markets and street food stalls. Similarly, green links will connect Glenrothes' existing green spaces, including Riverside Park, to make them a more integral part of town life.
We're hugely excited by the masterplan we have created for a flourishing and dynamic Glenrothes town centre. Its adoption is especially timely - empowering the town to emerge from the pandemic primed and ready to rise to the challenges of climate change and embark on the journey to net zero carbon.
We look forward to working with Fife Council as they bring the new masterplan to life. Creating amazing places for people to live and work is central to what we do as a business and it is especially gratifying to see our ambitions taking shape on such a large scale.