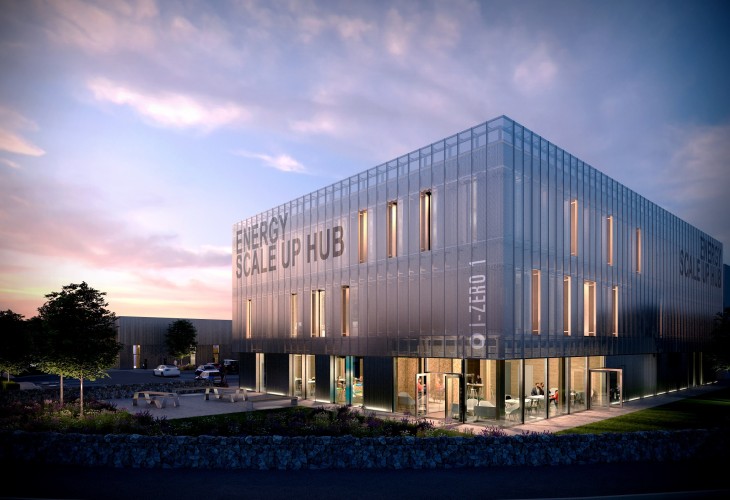 Detailed planning application submitted for ETZ Energy Incubator and Scale Up Hub, the first phase of the Innovation Campus for ETZ Ltd.
31 Mar 2023
Halliday Fraser Munro are delighted to have prepared and submitted the detailed planning application for the ETZ Energy Incubator and Scale Up Hub, which represents the first phase of the Innovation Campus for ETZ Ltd.
The Innovation Campus will provide purpose-built office, collaboration and industrial space for entrepreneurs and startup companies operating within the green energy sector. The campus is a first for the region - and part of ETZ's visionary ambition to establish a globally recognised centre for low and zero carbon innovation and enterprise.
"...the Energy Incubator and Scale-Up Hub […] will act as the entry point for new and growing supply chain organisations to receive support and flexible accommodation and build links with academia, institutional partners, and industry." Quote from ETZ website (etzltd.com)
We worked closely with ETZ Ltd to develop the campus design, which was centred on three core principles – functionality, sustainability, and collaboration. As a team, we aspired to create an exemplar industrial development for Aberdeen – one that is rooted in an understanding of place and our collective environmental responsibility.
Flexible floor plates have been designed throughout to accommodate a variety of different building functions including open plan office accommodation, cellular offices, meeting rooms, forum spaces, workshops and a large clear volume industrial space housing state of the art specialist equipment to support product prototyping, testing, and manufacturing.
Carefully orientated building forms, a limited palette of materials and efficient structural design ensures buildings are easily adaptable and maintained over time, whilst minimising the development's overall embodied carbon. Floor to ceiling glazing provide views and natural light to and from office and industrial workspaces, while a perforated metal screen facade to the Collaboration Hub building at the heart of the campus provides an elegant solution to solar shading. Dedicated pedestrian routes, outdoor seating areas and street trees provide safe routes between buildings, increase opportunities for chance collaboration, support biodiversity and improve the well-being of everyone within the campus.
ETZ will continue to support Aberdeen's energy transition, forward thinking and sustainable workspaces and innovation. Halliday Fraser Munro are excited to be helping design the early stages of this important journey and will continue to support the City's move towards net zero and a positive and successful future.