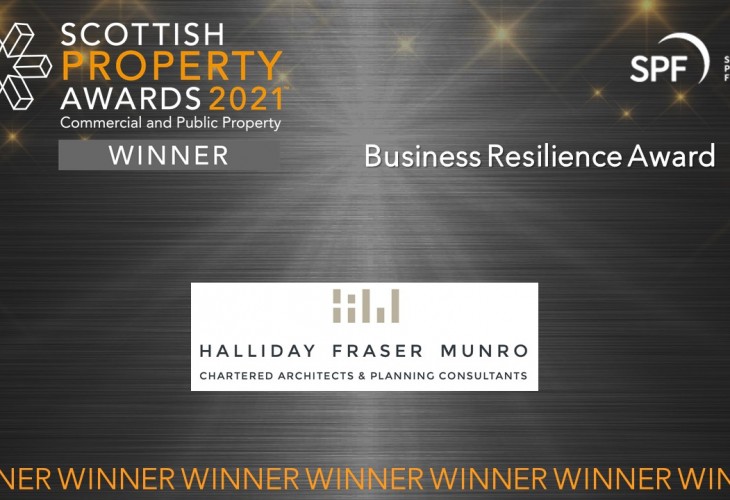 Double win for Halliday Fraser Munro at the Scottish Property Awards
26 Mar 2021
The Halliday Fraser Munro team won two awards at this year's prestigious Scottish Property Awards in the 'Development of the Year' and 'The Business Resilience' categories.
Our design lead on the Inverurie Community Campus alongside hub North Scotland, Robertson Construction and Aberdeenshire Council gained recognition as the 'Development of the Year' for the stunning new £55 million project.
Inverurie Community Campus, found in the heart of the Aberdeenshire town, replaced two existing community buildings and incorporated two existing schools under one roof to provide a new civic centre for the town and the surrounding area.
With last year being dominated by Covid-19, Halliday Fraser Munro also demonstrated to the judges panel its response to the pandemic and was awarded 'The Business Resilience Award'.
We delivered our usual high level of service as we adapted to new lockdown restrictions, while prioritising the health and safety and wellbeing of all our colleagues.
We also introduced a number of initiatives, such as: reshaping the work experience we offer to the next generation of architects and planners for an online world and supported staff with various initiatives including our 150 challenge to raise money for SAMH.
This involved undertaking 150 activities or achievements to mark 150 days of lockdown last summer, from cycling 150km to baking 150 cup cakes.
David Halliday, Managing Director of Halliday Fraser Munro, said: "We're delighted that the judges saw the value we brought to not only Inverurie Community Campus but the wider town and community.
"It's credit to everyone in our firm that, despite the ongoing pressures of the pandemic, we have continued to perform well as a business and produce consistently excellent results for our clients and this was reflect in the new business resilience award. We look forward to continuing our work in communities throughout the rest of 2021."
We love delivering award-winning work for our clients. If you would like to be part of a future successful project, get in touch at info@hfm.co.uk.