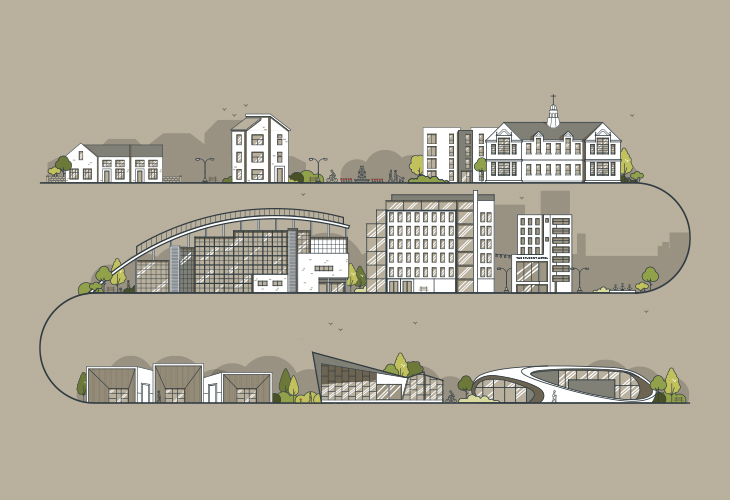 Enhancing People's Lives
10 Nov 2022
At Halliday Fraser Munro, we take pride in our innate understanding of the localities and sectors in which we work, in our ability to adapt, in our commercial and market intelligence, in our commitment to deliverability, efficiency and professionalism. In addition to those values, we take our social and environmental responsibilities as architects seriously. The design of the buildings and places in which we live profoundly impact on our daily lives and overall sense of well-being. We believe we have a duty to create meaningful and positive contributions to our physical environment for the benefit of current and future generations.
As part of our growing commitment to research and development, which includes our zero carbon Replanet initiative, we have conducted an extensive in-house analysis of our design process to identify opportunities for enhanced collaboration, knowledge sharing and communication, and to identify the most effective means to test and verify designs and ideas. We intend to build on and strengthen our existing values to produce exceptional designs and services for our clients, building users and wider communities.
Good design can be hard to pinpoint, the result is often an intangible feeling or emotion. It often goes unnoticed, disguised by the fact that it simply 'does the job well'. Take for example, the humble office desk. You are likely to notice if your desk is set too low, the edges sharp or the worksurface cold to touch. But a good desk might be just the right height (or even better, adjustable), it might have a wood or leather top that provides a warm and comforting rest for your arms and a rounded or chamfered edge to lean against. The point is, you may not notice the constituent parts – you may just notice that it 'feels good' or 'feels right'.
A good home could be distinguished from a bad one by its ability to keep occupants warm, to help occupants feel safe and secure, to provide comfort or opportunities for self-expression. A good city might be defined as one in which people feel connected, where people feel a sense of identity and pride, where public space supports the needs of communities by providing room for relaxation, shopping, eating, and gathering. A good school might nurture a sense of creativity and curiosity in children, it might strengthen a connection with its wider community and support teaching staff in their ability to educate. As architects, we are acutely aware of the impact good design has on the individual and collective lives of our clients and building users. It is not enough to simply meet the functional needs of a brief, site or problem, good design should go further. Good design should delight, support, and inspire.
Better Homes
Designing better homes improves the environment and nurtures a sense of belonging, security, community, and pride.
As we move towards a zero-carbon future, we require intelligent design to deliver homes that are resource efficient, built to last and fit for future adaption. But good design extends beyond the individual house. The in-between spaces such as streets and green spaces are equally important in shaping successful places, making them feel safe, inclusive, connected, and welcoming. The whole question of coming home or welcoming visitors to your home is a far greater event than the colour of your front door. The experience can start even before you have arrived in your street. It is influenced by how you get there, what you pass on the way and whether you feel you are travelling through a safe and familiar environment. Is the experience of approaching home pleasant and memorable? Will you be able to find your way out? Could you describe how to get there easily? When done well it not only impacts on one's sense of wellbeing but inspires a sense of pride and 'ownership' in a neighbourhood. Similar emotional stimuli can apply to all our buildings and spaces and the importance of recognising this in the planning and layout of new communities is key to creating better places.
Better Masterplans
Designing better masterplans creates thriving sustainable communities and unique new places to live, work and play.
We believe in a collaborative, people focused approach to master planning involving multidisciplinary designers, stakeholders, and local communities to create deliverable and successful places. Through responsive design, in which the unique characteristics of a brief and site are considered, and often celebrated, a good masterplan has the power to transform disused or derelict sites into distinctive and thriving neighbourhoods. A steeply sloping site might inspire a terraced street layout, minimising ground works and providing panoramic views of the surrounding area. A well-trodden core path might inspire the creation of a public park, becoming a focal point and social hub for a new community. A historic monument might inspire a vista that becomes the primary street of a new development. Following this approach, we can design better masterplans, imbued with a strong sense of place, and firmly rooted in their immediate context and environment.
Better Schools
Designing better nurseries, schools and universities stimulates creativity, enhances concentration, motivation and understanding.
Good design has the power to support future generations by providing nurturing spaces for learning, collaboration, connection, and play. We all have memories of sitting in a classroom as a child. You might remember your teacher standing at the blackboard, or the sound of your chair squeaking on the linoleum floor, or the view from tall, 'drafty' single glazed windows. Architecture – whether it be the shape of a room, the height of a window or the finish of a floor – has a impact on our lives, contributing to childhood memories, the delivery of our education and basic needs such as safety, connection, and daylight.
In addition to supporting the latest educational models, schools are playing an increasingly important role as community hubs, providing leisure, lifelong learning, and integrated community services to the wider population. Re-using sites and buildings is key to ensuring new or upgraded facilities are easily accessible to existing communities whilst addressing the urgent need for sustainable solutions.
Better Work Environments
Designing better work environments can inspire productivity and collaboration and can lead people to feel a powerful sense of belonging and pride.
Every organisation is unique and good workplace design has an important role in meeting the needs of the collective and the individual. It may encompass everything from brand identity, desk configurations, collaboration and social spaces, production processes, integrated technology, sustainability, and a connection to place.
Recent changes in workplace habits, influenced by the Covid pandemic, has led us to rethink our office environments and how they can support new ways of working. It is challenging employers and designers to take a fresh look at how the needs of employees are met. We might be more inclined to consider media rooms or quiet areas specifically designed for Teams calls or we might reconfigure our desk to collaboration space ratio, with more hot desks and meeting spaces. Ensuring our workspaces are adaptable and flexible for current and future use is key to creating better work environments and ultimately, more sustainable buildings.
Better Retail Spaces
Designing better retail spaces improves consumer engagement and creates positive working environments for staff.
Good retail design has the power to engage consumers through the creation of stimulating, inclusive and functional environments. It can strengthen brand identity, attract new customers, as well as influencing the loyalty of existing consumers. Good design can promote efficiencies in production, deliveries, waste, and maintenance. It can reduce running costs and embodied carbon through sustainable construction techniques and technologies. It can ensure that a building is easily adapted as the retail sector evolves.
Recent changes, particularly with online shopping, Brexit and climate change, must be viewed in the context of individual retailers in terms of supporting changes whilst minimising disruption to production or sales. But in addition, they must also be viewed in a wider urban context. We require intelligent and innovative thinking to enliven our town and city centres in a way that is mutually beneficial for retailer, consumer, and the public. Marischal Square, Aberdeen, has become a prominent public destination with a variety of restaurants, cafés, and bars. Here, retail spaces were designed to animate adjoining streets and public spaces whilst enjoying captivating views of Marischal College and Provost Skene's House.
Better Health Care Spaces
Designing better health care spaces creates a calming and healing environment for patients and reduces stress for staff.
Good design has the power to make health care facilities safer as well as promoting healing and wellbeing in patients. In addition to optimising functionality, good health care design offers an opportunity to humanise otherwise institutional spaces, so that patients and building users feel comfortable, dignified, and empowered.
Consider how you might feel in the following scenarios, which follow an imaginary journey from the front door of a dental practice to the waiting room. In scenario one, you enter via a solid door into an artificially lit, long narrow corridor. You notice a small sign next to one door with 'reception' written on it. You enter a small, light blue, windowless room with a desk on one side and three metal chairs on the left. You sit down and wait to be called for your appointment. In scenario two, you enter via a glass door into a wide, square hallway with a glass panelled screen welcoming you into a reception area. Notice clean white walls and some colourful artwork and greet the receptionist, who sits behind the desk opposite you. They direct you to a fabric covered chair from where you can sit and look out a window on to a quiet neighbouring street. In this example, it is easy to see how better design and a careful consideration of materials, colour, daylighting can improve our sense of wellbeing.