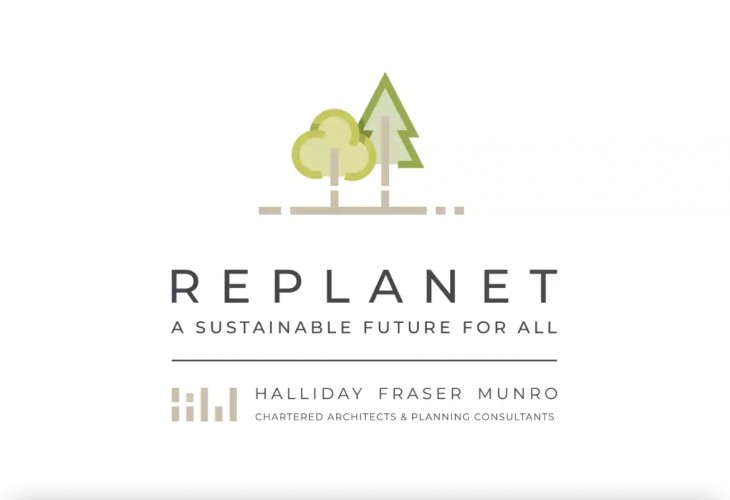 Halliday Fraser Munro launches Replanet initiative
16 Sep 2021
Halliday Fraser Munro has launched its far-reaching Replanet initiative that underpins the journey to carbon zero and its commitment to a sustainable future for all.
The firm, headquartered in Scotland and working on projects across the UK, says it has always been led by its social, economic and environmental responsibilities. But the growing climate crisis has prompted a step change in sustainability across the globe and Halliday Fraser Munro wants to continue to be at the forefront of rising to environmental challenges.
The World Green Building Council estimates that buildings and construction account for 39% of the world's total carbon emissions. Halliday Fraser Munro says this finding demonstrates the sheer scale of what must be achieved if the planet is to be protect the planet from catastrophic climate change.
As part of Replanet, the firm has launched a brochure, video and infographic timeline showing the journey to carbon zero emissions. As a practice, Halliday Fraser Munro achieved net zero in March 2021. Its entire team is fully committed to the successful delivery of buildings and spaces that will achieve its clients' targets on net zero and their vision for communities that enjoy sustainable, healthy lives.
The practice follows RIBA guidelines and is mapping out the carbon journey on its new infographic that includes key dates on progress to January 2026 when net zero carbon is to be achieved on all projects with practical completion. The firm already has Certified Passivhaus Designers' Accreditation which has implemented a hybrid working and green travel policy and will also be introducing low emission cars next month.
In collaboration with its clients and contractors, Halliday Fraser Munro says the collective knowledge supply chains will be used to reduce the embodied carbon in all projects. And using its expertise in Building Information Modelling (BIM) software, it will ensure that clients and their end users have the necessary tools to operate buildings sustainably and economically.
David Halliday, managing director of Halliday Fraser Munro, said: "As architects and planners, sustainability has always been at the core of what we do. The launch of Replanet is another sign of our commitment to tackling the climate crisis.
"The lead-times for buildings are long. Tomorrow's buildings are already on the drawing table today, and those buildings will impact our environment for decades, if not centuries, into the future. That's why we are supporting our clients' journeys to carbon zero now."
For more information on Replanet click here, or contact us at info@hfm.co.uk.