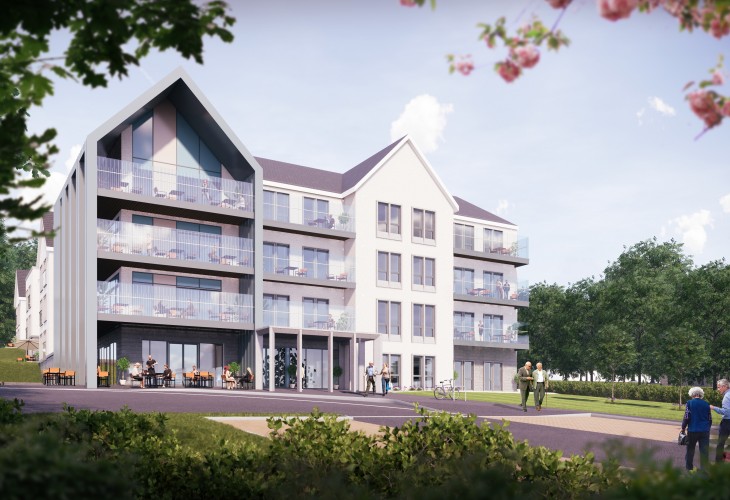 Halliday Fraser Munro lodges plans for 65-bed nursing home in the grounds of Marcliffe Hotel and Spa, Aberdeen
8 Jul 2019
Plans have been revealed to create a 65-bed nursing home in the grounds of a five-star Aberdeen hotel. Halliday Fraser Munro has submitted the application for full planning permission on behalf of Meallmore and the Marcliffe Hotel and Spa.
The development at the North Deeside Road site will provide a range of accommodation and facilities for older people, including a private cinema, hair and beauty salon, café, lounges and dining area. The hotel will continue to operate as it does at present.
David Halliday, managing director of Halliday Fraser Munro, said the site, which sits within the Pitfodels Conservation Area, lends itself perfectly to a nursing home development.
Mr Halliday said: "Surrounded by a number of mature trees which define a high canopy woodland and parkland landscape, this is a tranquil site and ideal for the proposed use and will help to fill much-needed demand for care home beds.
"The trees will be retained to provide a secluded yet welcoming setting with good views from the common areas and individual rooms. The proposals will ensure that an existing walled garden west of the building is maintained for the enjoyment of the residents.
"The design of the building will work with the topography of the site, optimising the views for the residents, and one of the key features will be large windows so that residents can look out over the valley to the south.
"Each level will be provided with a balcony, offering residents access to safe and secure outside spaces at all levels of the development. In addition to the 65 individual rooms, the nursing home will include a communal dining room and lounge area where the residents can socialise and enjoy activities."
A number of previous applications have been submitted for various uses of the Marcliffe site, including an extension to the existing hotel, and new 228-bed hotel and spa, commercial office space and a residential development.
Halliday Fraser Munro's plans ensure that the proposed nursing home will be in keeping with the historic architecture of other buildings along Deeside Road, many of which include references to the Scots baronial revival of the 19th century.
We have extensive experience in delivering projects for the care home sector and are currently working on a major project for Midlothian Council. The project combines 50 new build homes on a brownfield site in Dalkeith, with a 40-bed intermediate care facility.