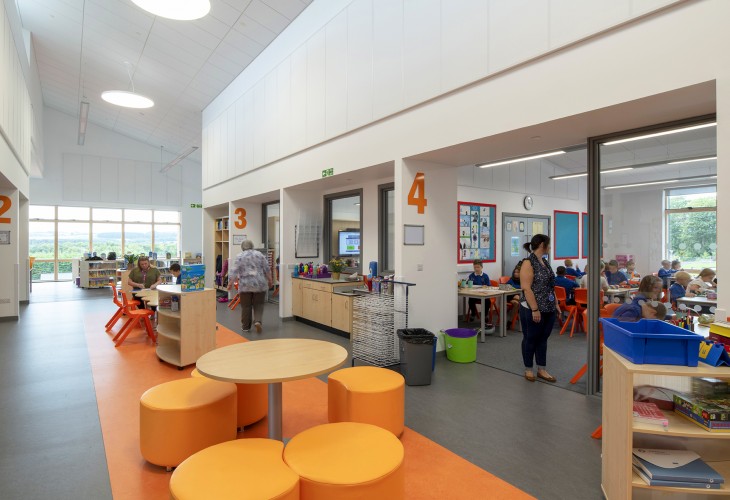 Helping the world breathe more easily
14 May 2021
Good ventilation has always been a critical factor in the health of every building and everyone that uses it. It prevents condensation and the build-up of toxins, particles and pathogens and ensures everyone has access to clean, fresh air.
Consequently, healthy ventilation rates, airflows and air distribution requirements are all carefully defined in the Government's building regulations. These technical ventilation requirements generally form a key part of the brief laid out by clients from the inception stages of any project.
In the past, ventilation could be provided naturally, using external openings and vents, however, as buildings have grown larger and more complex, mechanical solutions have been deployed. Mechanical and electrical consultants are invariably the people now tasked with ventilation calculations and compliance testing.
Today, however, faced with the joint global crises of climate change and Covid 19, architectural designers must play an increasing role in creating more innovative ventilation strategies. Finding ventilation solutions that conserve energy and maximise fresh air within buildings requires inventiveness and ingenuity, combining mechanical with natural ventilation techniques to secure the future of our planet and its people.
Using natural resources to protect the planet from climate change
Heating ventilation and air conditioning (HVAC) is invariably the single biggest consumer of energy in the UK's public and commercial buildings. In a typical year, air conditioning alone, can consume more energy than a building's annual heating bill. So, finding alternative means to create a comfortable well-ventilated working environment, wherever possible can have a significant impact on buildings energy use and related CO2 emissions.
Designing buildings to make better use of natural ventilation sources can reduce the energy requirements and running costs of a building significantly. Developing hybrid systems that marry the benefits of natural and mechanical ventilation technologies is becoming an increasingly popular solution to achieve sustainability targets. These are now reflected in the principles set out in the latest government guidelines.
We deploy an increasing range of innovative ventilation solutions to match our clients' environmental goals and expectations. These are carefully configured to suit the size of the building and the different functions of each of the spaces within it. A number of education projects for Aberdeenshire Council demonstrate our ability to develop ventilation solutions to meet specific requirements.
We devised a naturally ventilated system at Kinellar School by using atrium spaces to create a passive stack over two levels. Our approach of creating a teaching wing with no doors between the classrooms and the breakout circulation spaces allowed sufficient air movement to ensure that natural ventilation could service all primary spaces. Cross ventilation from the external classroom elevations brings fresh air into the open-plan breakout circulation areas and then out through high-level, openable, clerestory windows.
Building sustainable solutions for Britain's varied climate.
As we move forward towards a more sustainable, Zero Carbon future, we are looking closely at how we can incorporate natural ventilation into our commercial buildings. This is a step change away from the air-conditioned boxes that have been the norm for many years.
However, purely passive ventilation can prove difficult in our seasonal, British climate. It may not always be the best solution for balancing thermal comfort, air quality and energy use in a strategy which works all year round. In terms of occupant comfort, a hybrid ventilation strategy, sometimes called mixed mode ventilation, can be an attractive alternative.
The British Council for Offices states: 'A scheme designed to use natural ventilation for the majority of occupied hours can be assisted or augmented by mechanical systems under peak heating or cooling conditions. This hybrid solution can accommodate greater extremes of internal heat gains and external temperature fluctuations than can be handled by a purely natural ventilation strategy. The result is that energy consumption is minimised under normal day-to-day conditions, whilst ensuring enough ventilation and cooling capacity to cater for peak period requirements.
How natural ventilation can help fight the battle against Covid 19.
Fresh air provision is widely recognised as a key factor in tackling the spread of the Covid 19 virus in indoor spaces. Research has revealed that we spend around 90 per cent of our time indoors. When this is in poorly ventilated spaces it has a seriously adverse impact on our health and our daily lives.
The current pandemic has put air quality and the effect of microscopic particles on our bodies under the spotlight. Covid-19 won't just leave its mark on our lives as we adjust to a "new normal", it will also have a lasting effect on our architecture and the way we approach our living and working spaces.
Optimising ventilation was already a legal foundation laid down in Part F of the Building Regulations. However, coronavirus has made it fundamental to minimising the transmission of viral and microscopic particles in indoor spaces and forced us to rethink the way buildings need to adjust to the risks.
For years, we have known about the physiological impact of poor air quality. Rising asthma cases rising in children, lung and heart diseases directly attributable to polluted air have all been well documented. The fact that these effects are slow and hard to attribute has made them too easy to overlook or ignore in the past. Thanks to the pandemic, that is no longer the case and improving ventilation is at the forefront of the agenda.
How being Passiv could help solve the climate crisis.
Buildings generate 40% of the world's climate emissions and, as architects, we are deeply aware of the role we must play in changing that. We are signatories to RIBA's 2030 Challenge and share their belief in the adoption of Passive House standards in both domestic and commercial settings.
Creating tightly sealed, highly insulated buildings, without succumbing to heat loss and condensation, presents a whole new range of ventilation challenges especially in a climate like the UK's. But combining highly sophisticated mechanical heat recovery and humidity control mechanisms during winter months with natural ventilation options when the climate allows, can be hugely effective.
If you'd like to talk to us about how inspired and innovative building design can improve our atmosphere, both inside and out, get in touch. We'd love to hear from you.