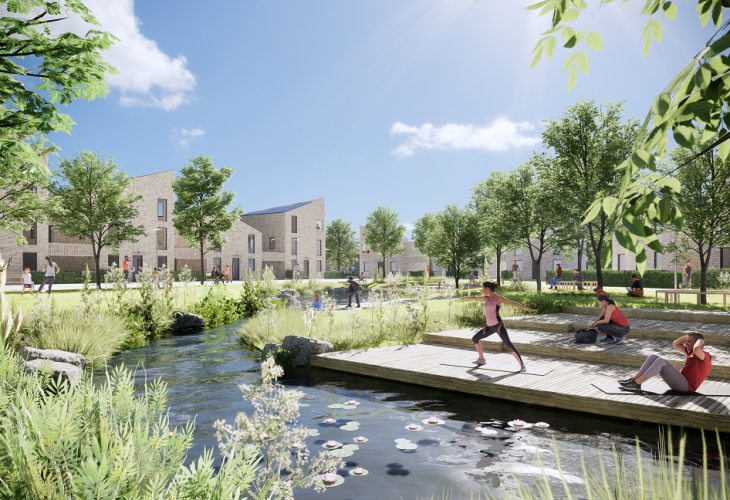 Landscape Architecture – A healthier outlook for everyone
17 Mar 2021
In the past landscape architecture was often seen as an adjunct to the building process and was viewed by many developers as an additional cost they sought to minimise. That attitude is changing as people realise the importance it has on our communities, mental health and the wider environment.
Innovative landscaping can also address issues surrounding climate change, biodiversity and communities. As awareness grows, developers are beginning to realise that incorporating more modern approaches to external spaces will add appeal to householders and businesses conscious of employee wellbeing.
This appreciation of the value of going above and beyond basic requirements for landscaping a project has inspired "Building With Nature". It is an accreditation standard recognising the importance of high quality green infrastructure throughout the development process. It identifies key themes for design, such as water, wellbeing and wildlife.
Recently, Covid-19 has had a significant effect on an individual's perception of outdoor environments. If homeworking continues to erode demand for office space, it's natural to assume that offices with the greenest and most sustainable landscape architecture will continue to thrive. The pandemic has also demonstrated to us the disruptive potential of a climate crisis and has governments around the world placing greater emphasis on a "green recovery".
Creative use of trees, edible planting and species-rich meadow grass all help add vital interest to the more built environment. Connecting paths bring communities closer together, facilitate exercise and can form the framework for natural corridors and wider networks.
These facts are not being lost on local authorities who are adopting ambitious approaches to the outdoor environment in their local development plans. Securing planning permission will inevitably require more progressive thinking about a project's response to its surroundings.
And the impact of climate change is already being felt in Scotland through increased rainfall. Run-off in urban and suburban landscapes has been identified as a critical cause of flooding. Therefore, all new developments must address this issue and landscape architects have a key role to play. Creative solutions using landscape designs can deploy more open watercourses to add interest to the urban landscape. These will slow the speed of runoff -protecting the natural flow in rivers. Pollution from runoff and grey water can also be prevented by strategic planting of appropriate species. These promote biodiversity and enhance insect, bird, aquatic and other wildlife.
The potential of a creative Sustainable Urban Drainage Systems scheme was beautifully demonstrated by "Grey to green" an award-winning project in Sheffield which deployed a system to facilitate spectacular plantings along a new urban walkway replacing a stretch of redundant road.
At Halliday Fraser Munro, we work closely with local authorities and our clients to ensure landscape architecture is central to any project, it is one of the reasons we have an in-house landscape architecture team who are involved right from the start of each project.