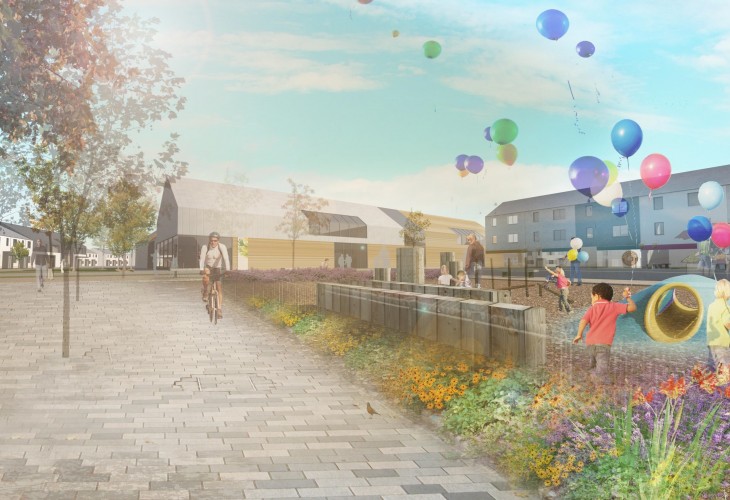 Masterplans that deliver, not gather dust
27 Aug 2019
The Masterplanning of our towns and cities is not a new idea: many of the best places to live, work or visit had a clear masterplan in place before the first stone was laid.
James Craig was only 22 years old when he won a competition to masterplan one of Scotland's most loved neighbourhoods. The result of that competition, held in 1766, was Edinburgh New Town.
Fast forward a couple of centuries and the need for well-designed places is as important today as it ever was. The opportunity still exists to masterplan healthier, more sustainable communities that are less dependent on cars with employment and local services within walking or cycling distance.
Like the New Town in Edinburgh, a good masterplan will include different functions and land uses such as homes, schools, shops, restaurants and places to work. Today, creating masterplans which improve peoples' lives through the creation of healthy, viable communities in which to live and work is a cornerstone of Halliday Fraser Munro's work.
Our team of masterplanners, architects, town planners and landscape architects work closely together to deliver masterplans which meet the aspirations of communities, developers and planning authorities across Scotland.
We create masterplans which can be delivered – not to gather dust. Previous masterplans have resulted in the construction of thousands of new homes, schools, health facilities, shops and businesses in new settlements and through the regeneration of existing communities.
This has been the case at the Cammo Estate on the outskirts of Edinburgh where we prepared a masterplan for the landowners. This resulted in the land being allocated in the Edinburgh Local Development Plan and which is now being developed by CALA Homes and Barratt David Wilson Homes as up to 700 new homes and community facilities.
We were masterplanners for the Prime Four Business Park at Kingswells which set out to be the first and only world class business park in Aberdeen. The masterplan included business space, a hotel, nursery and leisure facilities and has won national awards for its design and commercial success.
At Queens Quay in Clydebank we prepared a masterplan which sets the principles to deliver a vibrant mixed-use community that extends Clydebank's existing town centre down to the riverside, enjoying public access to, and focus on, the river frontage, historic dock and iconic Titan Crane.
Close to Bannockburn, our South Stirling Gateway masterplan was prepared for the landowners to meet the need for new homes in a very sensitive setting. It is now going through the planning process with a national housebuilder.
Marischal Square in Aberdeen is a good example of an important city centre site being masterplanned and delivered. The project included the transformation of Broad Street as a new public space as well as the development of new restaurants, bars, a hotel and office space and the enhancement of the historic Provost Skene's House as a museum.
Masterplans are not a new idea and they maintain their relevance and importance today as much as they ever have in the past. The challenge remains to produce a design framework which encourages the creation of desirable and attractive places for people to live, work and relax but which are also commercially viable.
The skill of the masterplanner will continue to be called upon to work alongside local communities and planning authorities to shape our towns and cities and to leave a positive legacy for future generations to enjoy and to cherish.
By Stephen Barker (Director)