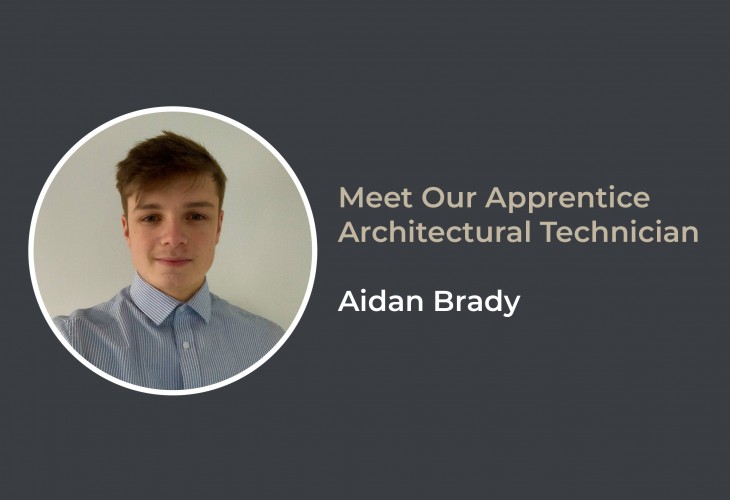 Modern apprenticeships offer the best of both worlds
5 Mar 2021
Modern apprenticeships (MA) help both businesses and the people that want to join them. They give employers access to bright, ambitious people and allow them the chance to fine-tune the skills of those joining their profession to match their precise requirements. For career-minded school and college leavers, who are not keen or able to make the financial and time commitments demanded by full-time higher education, a modern apprenticeship is a great opportunity to jump into the world of work. Small wonder that employers like Price Waterhouse Coopers and Aston Martin now offer modern apprenticeship programmes. The Scottish Government's targets for modern apprenticeships have been met for eight years running and we, at Halliday Fraser Munro, are contributing to those goals by offering our own apprenticeship programme.
A technical education for a technical world
Architectural design and construction have become increasingly complex over time. Developments like 3D design technology and the use of artificial intelligence in building design and management have created a whole new range of skills and the demand for architectural technicians has never been greater. Architectural Technology is relatively new as a formal profession and, while there are a number of full-time courses available, we felt that there would be greater value in taking on a Modern Apprentice who could learn while doing the job. They study at college for one day a week and gain hands-on experience by working in the practice for the remaining four.
An education that matches the pace of change
Construction technology is moving at lightning speed as we strive to produce low, and even zero carbon buildings. Software tools used to design buildings are advancing at a similar rate and keeping up with these advances is a real challenge for everyone in the industry. People who have spent four years in college can find that some of the things they learned in the first year are already out of date by the time they get their first job. By working at the cutting edge of this exciting new world, our apprentices are kept right up to date with these developments as they see them being put into practice.
The apprentice's perspective
Aidan Brady joined Halliday Fraser Munro's Dundee office just over a year ago. He'd done some civil engineering training at college but had a real passion for the built environment and architecture. The prospect of up to seven years' training to be an architect was not a realistic option for him so the idea of starting work while continuing his professional education was highly appealing. Aiden sees many advantages to this approach. Not only is he getting paid for his work with us, but Halliday Fraser Munro covers the cost of his course fees. He feels that, by studying for fewer days, he has more time to absorb the detail of what he is learning. He can also ask colleagues if there are any aspects of the technical study that he finds challenging. Seeing what he is learning being applied in the office and on-site helps Aidan appreciate the value of, and applications for, what he is learning. Understanding exactly why it is important helps the information to really sink in.
The employer's perspective
Clive Gordon is our Technical Director and is managing Aidan's apprenticeship. He admits to being a convert to the apprenticeship concept before our MA programme had begun -having started as an apprentice himself. As someone who works at the forefront of architectural technology, he knows how important it is to have the latest information, skills and learning to hand. While he acknowledges that the classroom has its place, Clive believes there is nothing quite like seeing how a design works amid the mud and complications of a real site and listening to real problem solving as it takes place in the studio. That is where the problem-solving skills of the architectural technician are really honed.
The undersupply of fully trained architectural technicians was a driver to setting up the Modern Apprenticeship scheme. It enables us to train staff in the way we work and dovetail their skills with the systems we use so they are more valuable to us as a business. They get a clearer understanding of commercial factors working on real projects with real clients and it helps to have team members who have "grown up" with us building a sense of loyalty and deep-rooted understanding of our culture.
We support a huge range of training opportunities for people who want to join us while they progress through their formal training. A selection of architecture students spend days they are not in university gaining work experience with us from year one of their studies and we take staff through their part 3 exams. Our commitment to ongoing professional training includes ACCT, Digital Marketing, Certified Payroll and Passivhaus Accreditation schemes as well as our Management Development Programme.
A win-win situation vacant
A recent survey revealed that 96% of employers who have taken on Modern Apprentices are extremely positive about the experience and we certainly are. They also reported that MAs help improve productivity, staff morale, and service quality which certainly rings true. There's nothing quite like having a keen young person, fresh to the industry, working alongside you to keep you on the ball.
Aidan and other Modern Apprentices are similarly enthusiastic about their experience. 96% would recommend an apprenticeship to others and a "Wellbeing survey" revealed that MAs report higher levels of satisfaction, happiness and feeling their life is more worthwhile.
To find out more about Modern Apprenticeships and other training opportunities with Halliday Fraser Munro, get in touch.