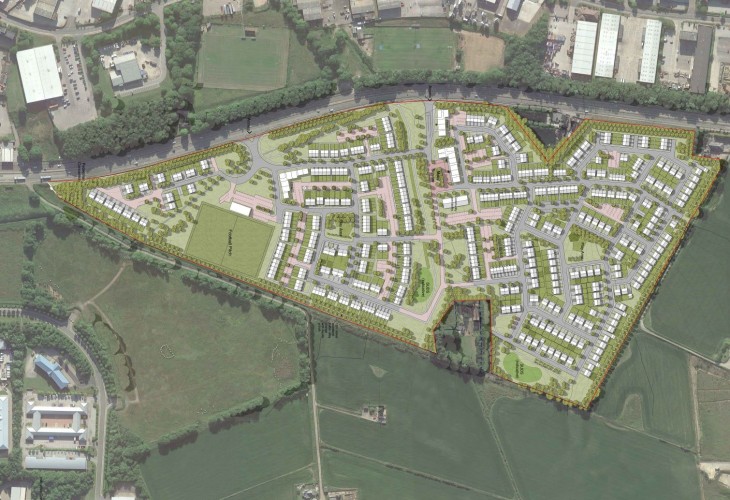 Planning permission lodged for sustainable coastal community
26 Jul 2019
Halliday Fraser Munro has prepared a vision and framework for the development of a new, sustainable coastal community on the outskirts of Aberdeen. The firm is acting as architects and planners for the project at Cloverhill, for which a planning permission in principle application has now been submitted on behalf of Cognito Oak LLP.
In developing a masterplan for the site, on land between Bridge of Don and Aberdeen beach, Halliday Fraser Munro put energy efficiency and community at the heart of the design process.
To be delivered over three phases, the application proposes approximately 550 mixed tenure homes, including up to 165 affordable homes to be delivered in phase 1. The proposals also include 30 homes that will be powered by hydrogen fuel cells – a development that would the first of its kind in Scotland. This supports the local council's Energetica strategy which seeks to create integrated, energy-efficient communities that support innovation and employment.
In addition, there will be other mixed uses in the development such as shops, services and a significant amount of green space. Provisions for a permanent home for a local junior football club, as well as space for a charitable organisation, also form part of the development proposals.
Halliday Fraser Munro managing director David Halliday said: "We firmly believe that this development will act as a catalyst to reinvigorate the delivery of Energetica's ambitious goals, adopting emerging energy efficiency solutions in line with that concept. It will also deliver much-needed housing within the city: up to 30% will be for affordable provision, including new council housing.
"We are pleased to have worked closely to develop these proposals on behalf of Cognito Oak LLP, and feel they are an excellent demonstration of our high-level knowledge and understanding of quality and sustainable placemaking.
"Halliday Fraser Munro has a proven and nationally recognised track record in masterplanning, not only creating thoughtful, considered designs for communities but creative concepts that provide the highest standard of commercial solutions for clients."