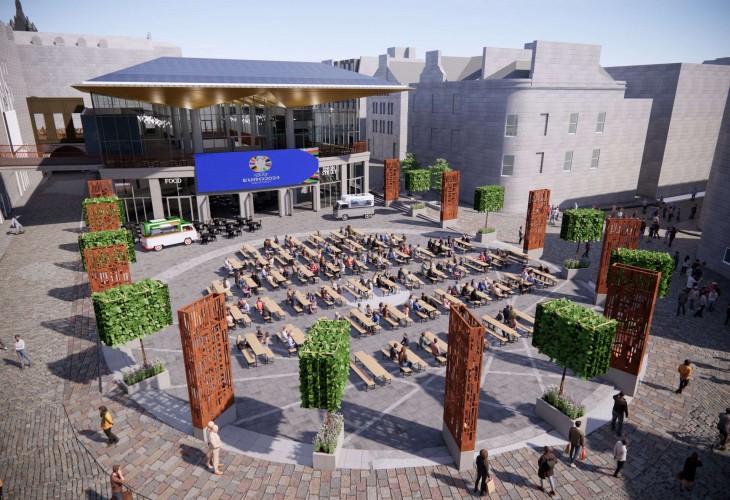 Putting the heart back into Aberdeen
29 Jun 2023
There has been a market at the heart of Aberdeen for over one thousand years. Its burgesses were among the most powerful people in the medieval town and the Mercat cross remains a symbol of the market's importance to the City. The Victorian market was central to the city's growth and was lovingly rebuilt after a catastrophic fire. However, its fortunes waned after it was rebuilt 1960s and languished beneath British Home Stores on Union Street before being demolished.
Naturally, we were delighted when Aberdeen City Council approached us looking for suggestions of what to replace the market with. The site is extensive and bridges the transition in levels between Union Street and Union Square the bus and railways stations and the harbour. The brief was to create something that would inject life into the city and draw people to spend time in the city centre.
Reviving the market model
After much thought, and extensive research, we came up with a radical solution. Another market. But this would be a far cry from the down-at-heel market that had been on the site before. Our research revealed a dynamic resurgence in street markets right across Europe such as the hugely successful Borough Market in London which is now one of the city's main food attractions.
This will be more like the markets that Aberdeen would have enjoyed in the past – a dynamic social space for entrepreneurs and fledgling businesses to come together, offering a wide range of products. They might be street food sellers, baristas, microbrewers, artisan cheese, gin or bread makers. The new market would be a route for local farmers to sell produce direct to consumers or for people selling vintage clothes or furniture. It would also be a dynamic space for performers and an arena for people to come together to watch major sporting events.
Linking the city centre
Our proposal involves creating lifts, elevators and stairs which will provide a link between the two distinct levels of the city centre. In one area, there will be fixed, lockable trading units under a high atrium roof reminiscent of the elegant Victorian Market that once graced the site. To the rear, on the green, a large canopy will cover two floor areas the upper with a balcony open to the lower. These spaces will be highly flexible but one idea that has been widely used elsewhere would have a large, shared dining space that allows diners to select from a range of different food and drink stalls using a single ordering app.
The canopied area opens to a large outdoor area with the flexibility to host a wide range of events from pop-up, specialist and seasonal markets to concerts and even watching major sporting and cultural events on a large screen.
Attracting people into the city will make it safer and the market will create a busy, well-lit and safe space for people to come and experience all Aberdeen has to offer. We are tremendously excited about this opportunity to breath new life into the city centre and make it an exciting destination for Aberdonians and visitors to the city. For a preview of what might be in store, you can take a look at the latest proposal by going to Simple Search (aberdeencity.gov.uk) and using the reference number 230704/DPP