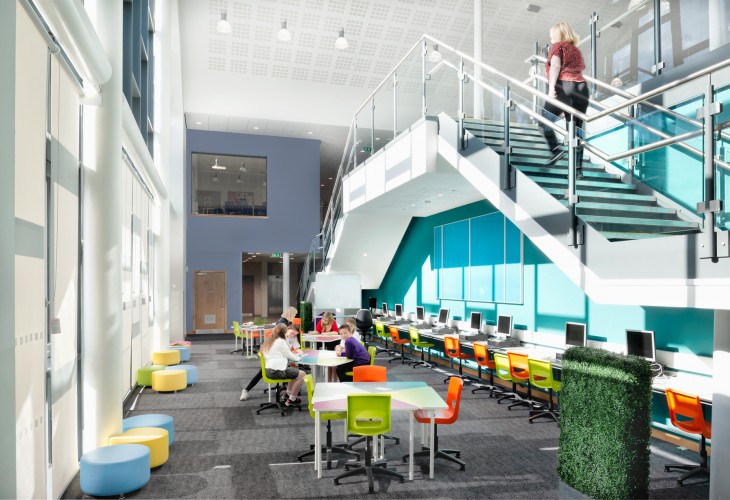 School projects deliver lessons in stakeholder success
15 Nov 2019
If you were to go back in time 100 years, school environments were very different places to what they are today. I'm not just talking about advances in technology and design that have allowed for the creation of outstanding buildings, but how schools were perceived by the local community.
A century ago, a school was somewhere that children went to learn. It's unlikely that parents would ever have a need to visit unless to discuss their child's education, and those without children of their own would likely never have stepped across the threshold.
But in 2019, schools have become a glue that binds communities together. They are a place for learning, not just for young people, but for everyone in society regardless of age.
This level of community involvement has completely transformed how we as architects approach the design of education projects. It's essential that the views of all the stakeholders – from the owners to the teachers to the pupils to the parents – are listened to. Only involving stakeholders from the outset can ensure that we produce a building that will benefit everyone.
Over the years Halliday Fraser Munro has worked on numerous education builds, and we enjoy these because the process behind them mirrors our firm's values of putting the client at the heart of the design. It's very pleasing to see organisations like local authorities reaching out to communities and asking them to help feed into the process and make the design right for all.
The other benefit for us is that it makes us see projects through different eyes and, consequently, in a different light. We might have an idea of the type of building we think is suitable, and it's oddly rewarding when we have to go back to the drawing board to develop new ideas based on the feedback we receive.
One of the projects that I have worked on with Halliday Fraser Munro that I am particularly proud of is the Alford Community Campus. At the start of that consultation process, The Lighthouse (now Architecture and Design Scotland) arranged a three-day workshop with staff, pupils and the community where they made films and created models depicting what they wanted for the school.
Those ideas were then distilled down into eight key things that they all agreed were needed from the new school building and which they felt would benefit the community as a whole.
The result has been a campus which integrates the town's nursery, primary and secondary schools under one roof, along with a public library, swimming pool and theatre. The whole building is designed in a way to bring people together: we've created a café culture with lots of social spaces.
It was an absolute pleasure to help take the community on a journey of designing a school. I've been lucky enough to return to visit the campus on a number of occasions, and I'm always impressed by the level of community spirit in that school.
Another Halliday Fraser Munro project which I've thoroughly enjoyed working on is the new Inverurie Community Campus, which is scheduled to open in the spring of 2020. When complete, it will replace the existing Inverurie Academy, Garioch Community Centre and Inverurie Swimming Pool and bring them together in one site.
It will provide accommodation for 1,600 pupils, as well as community facilities such as a six-lane swimming pool, outdoor sports pitches, play area, cafe and a health centre. The most pleasing thing for me, however, has been the way that St Andrews School – a special needs school – has been fully integrated into the building.
The school has over 100 pupils between the ages of three and 18 with varying levels of need, and a key component of this project was to ensure that the pupils can be integrated with the mainstream school where appropriate. Many of the young people at St Andrews School are very physically disabled, and it has been inspiring to work on such an inclusive project.
Although these are two schools in Aberdeenshire, we work with local authorities all over Scotland to deliver educational projects that make real differences to communities. One of the most recent to be completed is the Moray Sports Centre in Elgin. This is a flagship recreation project for the wider region, providing excellent sport and leisure facilities, with the added benefit that the amenities are accessible for people of all ages and abilities.
And we've also designed a new shared campus which has been instrumental in bringing two school communities together. We created a significant new development for St Edwards' and Tollbrae primary schools in North Lanarkshire: the new school allows them to be connected in one building with a shared gym, dining and multi-purpose rooms, but two classroom wings allow each school to retain an identity.
All of these projects – and so many more schools that Halliday Fraser Munro has designed – show just what can be achieved when a community comes together for good. Stakeholder engagement is a critical stage in the design process: involving everyone from the outset gives them a sense of ownership and pride, not to mention a successful building that delivers benefits to all.
By Yunming Thomson (Design Director)