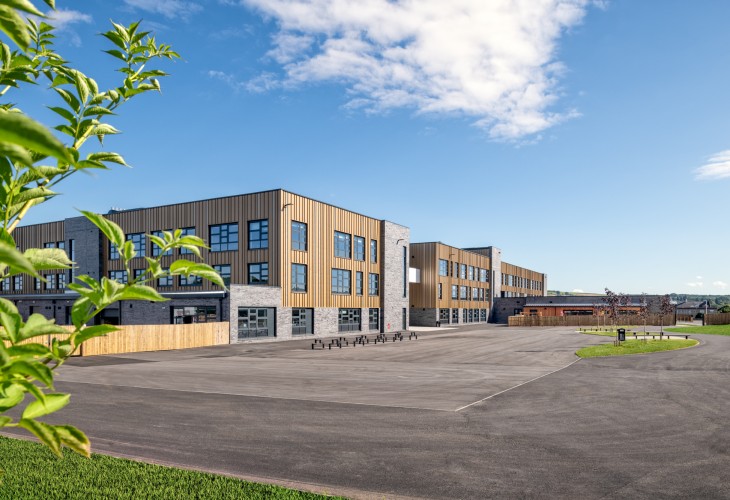 Stunning Inverurie Community Campus Opens
6 Nov 2020
Tuesday 27th October 2020 was a proud day for all here at Halliday Fraser Munro as pupils from Inverurie Academy and St. Andrews Special school moved into the new £56 million Inverurie Community Campus.
The new building allows both schools to be collocated in the same purpose-built facility at the heart of the community. The campus also incorporates fantastic new leisure facilities including a multi-use sports area, two all-weather pitches, a dance studio and a six-lane swimming pool which was recently opened by TeamGB swimmer Hannah Miley.
Two new gym halls have been fitted with the highest specification gymnastics and trampolining equipment for use by both pupils and the successful Inverurie Gymnastics Club.
The project was delivered for Aberdeenshire Council by Hub North Scotland and built by main contractors Robertson Construction. As Design Team Leaders, our brief was to envision an inspiring space to be at the heart of the community for years to come, whilst adhering to strict spatial guidelines.

The new campus was designed to prioritise the needs of a number of groups – pupils of both schools, the Inverurie community, local sports teams – with a focus on the aesthetic appeal, as well as the usability and accessibility of the building.
Our goal was for the campus to be an efficient, compact solution, where departments are linked through a series of dynamic spaces such as learning plazas, amphitheatres and atriums. For full details on the project, you can read the case study here.
As with any education project Halliday Fraser Munro undertake, we make minimal disruption and ease or transition key priorities. Our design ensured that none of the students or community groups using the existing facilities were disrupted or relocated during term time. Now that the new campus is occupied, the existing buildings will be demolished to make way for new sports pitches, parking areas and extensive parkland. New pathways will also be added to retain the physical link between the campus and Inverurie town centre.
Inverurie Academy Head Teacher, Mark Jones said 'We feel like we're opening a new chapter for Inverurie Academy, both in terms of the new facilities and the fact we can share them with community partners. There's a real wow factor to the learning and teaching areas. You name it, from science to sport, there are better opportunities for learning.'
All at Halliday Fraser Munro are grateful to have led one of the largest construction projects in Scotland, from initial planning, all the way through to completion. The scale and demands of the project required the skills, resources and expertise of multiple teams across our business, allowing us to deliver a thoroughly considered and expertly executed building for the community of Inverurie.
The Inverurie Community Campus represents another successful Education & Community project delivered by our specialist team. You can find out about other high-profile projects we've recently delivered on our 'Projects' page.