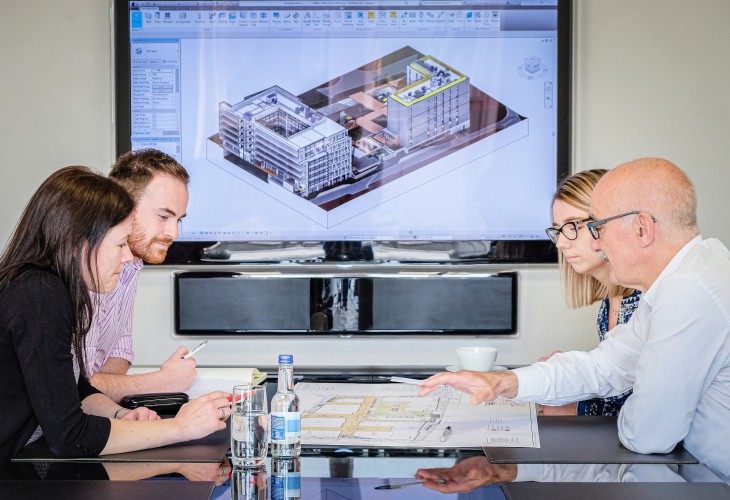 Why Scope of Service should be the first thing on your mind when appointing an architect to a project.
28 May 2021
While Scope of Service may not seem the most exciting subject for a blog, it is fundamental to the successful operation and completion of any architectural project. It clarifies specific standards, roles, responsibilities and duties for each of the specialist consultants that form the professional team. Getting it wrong can create unforeseen costs, create unnecessary duplication of work and lead to confusion and, potentially, even disputes. Get it right and you will know precisely which services you are getting and from whom.
The Scope of Service document is at the very core of the appointment contract. It sits alongside other key working document like the Design Responsibility Matrix (or DRM) and the Fee Schedule and Contract Conditions. The DRM covers every aspect of the project. It details everything, from who is responsible for the foundations to who specifies the taps.
Typically, it will cover at least a hundred items with responsibility for each one apportioned to a specific consultant. As well as the architects, this will typically include: structural engineers, mechanical & electrical engineers and project managers. More complex projects might also feature an archaeological consultant, traffic management consultants, surveyors, acousticians and fire engineers.
Importantly, the Scope of Service and DRM will also cover exclusions - highlighting each item on the project that is out of scope. These will differ from client to client and might include things like surveys or fine detailing and this useful in helping clients understand exactly what to expect during the delivery of the project.
Making scope bespoke.
Many practices use the off-the-peg forms of agreement, created by professional bodies such as The Royal Incorporation of Architects in Scotland (RIAS). However, at Halliday Fraser Munro, we tend to draw up a Scope of Service tailored to meet the specific needs of each individual client. Whilst we draw on the principles laid down in the standard professional documents, we develop and adapt them to suit our clients. We have found that many clients have nuanced ways of working and this, more flexible, approach allows us to dovetail our services with their in-house expertise and preferred specialist contractors. It also allows us to offer specialist support that goes beyond the standard remit of the architect, when required.
Scopes of Service will also differ significantly depending on whether clients want us to act as Contract Administrators on traditional or on a Design and Build basis. As Contract Administrators, we lead the project throughout the design and construction process - issuing instructions, chairing all meetings, inspecting works as they are undertaken and signing them off as compliant on completion.
For those clients wanting a Design and Build service, we provide a tailored Scope of Service. This generally means transferring responsibility for the project over to a main contractor on completion of the design stage. The consultant team are then typically novated over to undertake the design works directly for the main contractor.
Across these two approaches, there is a huge range of options from which clients can choose. There might be flagship, design-led, projects, where the client wants the architect to be involved in every aspect of the design, right down to fine detailing and furniture. Others might simply want the architect to get the project to the planning approval stage.
Knowing precisely where everyone stands.
The Scope of Service and DRM don't just help our clients. They provide clear internal guidance and delineation for everyone within our practice, so they know exactly what is expected of them and the standards required, such as the level of BIM they are working to. It means that information about every aspect of the project can be cascaded through to each tier of the delivery team with total clarity and precision. This stops team members from overdelivering, helps minimise client costs and prevents budget creep.
At Halliday Fraser Munro, we take great pride in creating contracts that are crystal clear and watertight. Our in-house legal team are highly experienced in providing appointment documentation that ensures our clients know exactly what they are getting from the outset, what it will cost and where the balance of risk lies throughout the process.
Our Legal Team's industry knowledge is second to none and they will provide clear documentation for every aspect of the project including professional indemnity insurance, collateral warranties and adjudication arrangements.
This clarity helps ensure that any misunderstandings are ironed out before the project begins and that it runs as smoothly as possible. If you'd like to find out more about how we're designing better ways of working together, we'd love to hear from you.