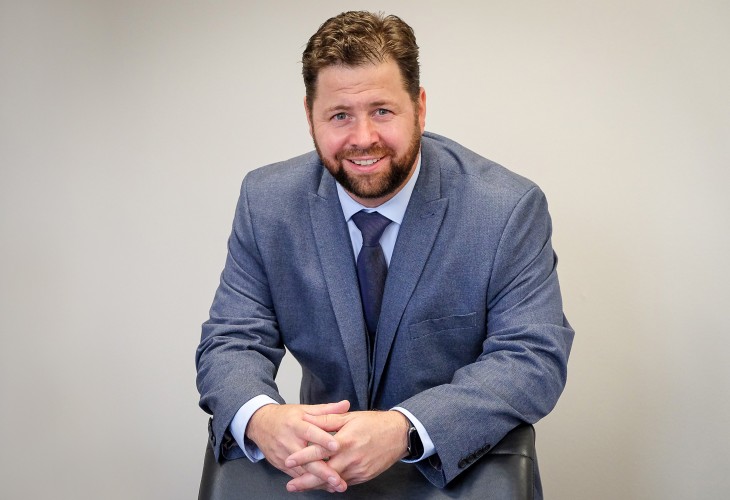 Halliday Fraser Munro strengthens Edinburgh presence after being awarded £150m city construction projects
2 Jul 2019
Halliday Fraser Munro has strengthened in presence in Edinburgh where it has recently won contracts to work on construction projects worth in excess of £150m. We have moved to a new city centre office, continuing our 20-year presence in the capital.
Under the leadership of our managing director David Halliday, our operations in Edinburgh will be run by fellow directors Michael Halliday and Jet Cameron. The move will allow us to create even closer connections to new and existing clients involved in a wide range of new build projects across the residential, education and care home sectors.
Over the past two decades we have firmly established Halliday Fraser Munro as one of the leading architectural and planning practices in the region, having been appointed to work on a number of high-profile projects that are transforming communities and stimulating economic growth.
David said: "The decision to move from our base in Haymarket to new premises in Melville Street has been a strategic one based on our long-term vision for Edinburgh and to allow for the growth of our highly-skilled and in demand team.
"Over the past 20 years, we have developed a reputation for delivering large projects in a personal way and and this has earned us a great deal of respect and credibility. Clients appreciate our boutique design approach and tailored service, along with our commitment to delivering projects on time and on budget.
"Our Edinburgh team is currently working on a wide range of different projects, with significant work including residential units for local authorities, homes for the private rental sector, care homes and hotels. Halliday Fraser Munro is one of the preeminent practices in Scotland: the scope or our current projects and what is in the pipeline are a clear demonstration of that."
Some of the recent projects from the Halliday Fraser Munro team in Edinburgh include:
Working with Cruden Homes (East) Ltd to create 450 new homes at Longniddry. Our team created bespoke house types designed to reflect the character and charm of the surrounding historical architecture of East Lothian. The development will be an essential component of the Longniddry community, incorporating many open spaces for the residents to enjoy.
Development of a masterplan for 700 news homes on the western edge of Edinburgh. Our proposals for the development at Cammo, for landowners Cramond and Harthill Estate, have now been adopted into the Edinburgh Local Plan and have received full planning permission.
A significant project for Midlothian Council which combines 50 new build homes on an existing brownfield site on Newmills Road in Dalkeith, along with a 40-bed intermediate care facility. The site was formerly occupied by Dalkeith High School. We won the work through a framework 'mini tender' process.
Although residential and local authority-led projects currently form a significant part of our current portfolio, we have delivered numerous large-scale projects for clients in a variety of different sectors. Some of these highlights include:
The sensitive redevelopment of £14m Niddrie Mill Primary School for CCG, Places for People & PARC Craigmillar. This mixed-tenure development of private and affordable housing retains the original historic façade of a landmark building. Such was the quality of the work, the project won Affordable Housing Development of the Year at the Scottish Home Awards.
Bridgened Inspiring Growth – a flagship project selected for the launch of the Scottish Government's policy on tackling social isolation. Our plans were to convert a derelict farmhouse on Old Dalkeith Road where the community can meet and socialise while making, mending, growing and cooking. The local community, which led the project, praised us for leading the consultation which helped residents determine best use for the property.
The development of Exchange Tower in Haymarket – a landmark building and the tallest in central Edinburgh. The office space, complemented by common areas incorporating showers, reception concierge and bike storage, offers sought after office accommodation in the heart of the financial and business district.
Masterplanning for the 120-acre Queensferry One site at Rosyth, which combines manufacturing, distribution and office space. In bringing forward proposals for this significant project, we created an incredibly well-connected space which complements its neighbours. In addition to the commercial use, we also incorporated retail and leisure with options for a hotel, retail, food retail and a petrol filling station.

More information on these and other Halliday Fraser Munro projects across Scotland, which demonstrate our skills in masterplanning and design of retail, leisure, commercial, education and residential sectors can be found on our projects page.