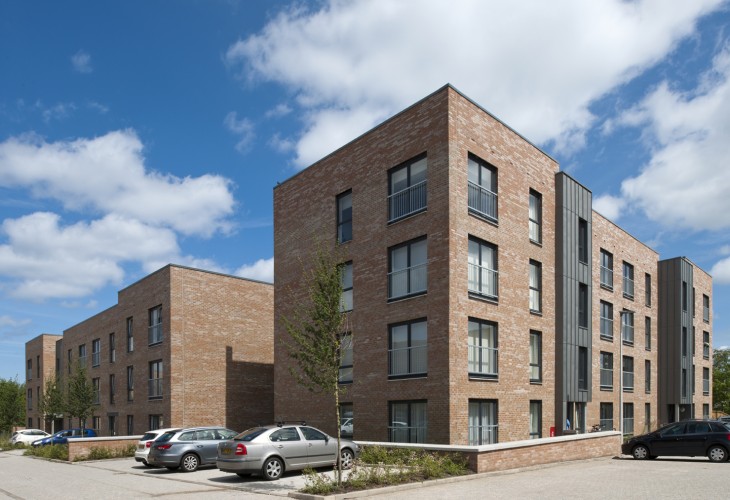 Making affordable homes affordable
29 Jul 2019
A home: it's so much more than bricks and mortar, four walls and a roof to keep out the elements. For some, it can mean a place to feel safe; for others living in a warm, stable building may be the key to maintaining good health. Many will see it as a place for family and community; somewhere they belong.
A growing number of people have been able to turn the key on their own homes due to a significant investment in the affordable housing sector in recent years. Developers are now required to build minimum numbers of affordable units within large residential developments, while a £3bn investment by the Scottish Government will see some 50,000 affordable homes built across the country by 2021.
While this sector is flourishing, it is not a new phenomenon. Over the past 25 years, Halliday Fraser Munro has delivered thousands of affordable homes across the UK for local authorities and housing associations.
In that quarter-century we have not only fully embraced the need to deliver homes which are sustainable, technically robust and low maintenance, but developed a deeper understanding of the issues and the challenging funding constraints of the affordable housing sector.
But what is affordable housing? Essentially, it is any type of housing that has not been bought in the private market or rented from a private landlord. The most common is social rented housing, which accounts for around 17% of all homes nationally, but there has been a real drive to create homes for affordable rent and shared ownership of late.
Sadly, there is still quite a stigma attached to the term affordable housing. Many people perceive that these properties are for the undesirables of society – that developments become dumping grounds for people who cannot be housed elsewhere - when the reality could not be further from the truth.
There are many reasons why people need affordable homes, and a prime example of this is the Craiginches development in Aberdeen. This £12m project, which we delivered for long-term partner Sanctuary Housing, is on the site of the city's former prison and was a pilot project for the Scottish Government's current investment programme.
This accommodation, which comprises 18 houses and 106 flats, is for people who are critical to the local community, such as emergency service workers, NHS staff and teachers. Aberdeen's oil-rich economy and traditionally buoyant property prices have meant that key workers on public sector salaries have been priced out of the market, but this development has enabled them to move into their own property at a mid-market rent.
In the Highlands, we are working with Robertson Partnership Homes, Redco Slackbuie Ltd and Caledonia Housing Association to create a new neighbourhood in the south of Inverness – a city where there is a significant need for affordable homes.
We are currently on-site at this development, which combines 49 houses and 18 flats with five commercial units appropriate for non-food uses such as a hairdressers, pharmacy, dentist or offices.
Central to the design, and to promote a sense of togetherness, is a pedestrianised public square. This will become a neighbourhood space for the local community where events and gatherings can be held.
And, of course, there is the award-winning Schoolhouse at Niddrie, which picked up the Affordable Housing Development of the Year title at the 2017 Scottish Home Awards. This development comprises homes for private sale, mid-market rent and social rent – but the design was 'tenure blind' so that there is no way of telling which market each property is for.
Affordable housing is helping to transform lives, but there are real concerns for the future of the sector with councils and social housing organisations facing mounting financial pressures and budget cuts.
While the Scottish Government will spend £4bn on housing during the current parliamentary term, no one knows what the level of investment will be beyond 2021. One thing that we are almost certain of, however, is that there will be a reduction in spend. Continued investment on the current scale in these times of austerity is simply not sustainable.
But new homes will still be needed, and housebuilders will face a raft of new challenges in balancing the books. For example, in the wake of the Grenfell Tower tragedy in which 72 people died, there has been discussion surrounding new fire safety measures aimed at saving lives.
One of the key elements being debated is the possible introduction of sprinkler systems in new-build flats. It goes without saying that any measure to protect life must be welcomed, but if this goes ahead, it is another cost consideration against a backdrop of squeezed budgets.
Scotland's aging population will also impact on the cost of delivering affordable homes. It is widely accepted that older people should live independently in their own homes for as long as possible, but their properties often need to be adapted to allow for that. There is now a question as to whether developers need to look at including features such as grabrails and additional lighting from the outset.
Challenging times lie ahead, but I am confident that these can be met with intelligent design that carefully considers the long-term sustainability of housing stock. For example, in one of our recent affordable housing developments, we encouraged our client to use bricks for the build.
There were other more cost-effective options for the finish, but we demonstrated that using another material on this particular site could create a false economy. Brick has a much longer life-expectancy so there was less likelihood of repairs being required in the short to medium term.
We firmly believe that affordable housing does not equate with cheap housing. Homes should provide a safe and stable place of shelter, and it's our job as architects to present innovative solutions and creative thinking to help our clients adapt to the funding challenges that lie ahead.
By Isla Jappy (Design Associate)